Welcome

We are so glad you're here! The Canvasback is your ready resource for all things needlepoint!
The Canvasback has been serving the needlepoint community since 1974. Located in Northfield, Illinois, we offer one of the 10 largest selections of designer canvases, fibers, needlepoint supplies, and accessories in the country...in stock ready for purchase or shipment. Our friendly, knowledgeable staff will help you with project selection, fiber choices, and finishing. Turn your stitched pieces into pillows, framed art, ornaments, stockings, tallis bags, belts, handbags and so much more! Our beginner classes will help you get started. One-on-one instruction is available as well. Experienced stitchers enjoy weekly scheduled classes, quarterly workshops, and three-day seminars. At The Canvasback we stay with
you
until your project is complete and you are happy!
Anniversary
F
ive years ago this month, I became the owner of The Canvasback. It has been one of the most rewarding experiences of my life! Sally grew a fantastic shop, and I was lucky to be in the right place at the right time. As everyone knows, all of the wonderful people who worked with her stayed on and remain to this day. In addition, we have been joined by three new terrific people. Our success and growth are due to this team's energy, skill, service, and professionalism. I am grateful every day for all they do.
I am also so very grateful for all of you! Each of you comes to The Canvasback bringing your own personal gifts. Your ideas, your conversations, your projects, your questions, and your enthusiasm make my day, every day. I cannot thank you enough for the joy you bring to our world.
Thank you again for your support and encouragement these past five years. Thank you for your business! Thank you for your patience during these pandemic months. Thank you for your friendship. Thank you for being such an important part of our Canvasback family.
Love, Eilene
---
Princess and Me
Trunk Show


Our staff loves these! And it's no wonder because each item is cuter than the next. There are canvases for every profession, holiday, sport, and hobby, as well as designs for weddings, babies, and graduations.
They are stitch painted and come with stitch guides. They're so easy to do, you can finish one in a weekend.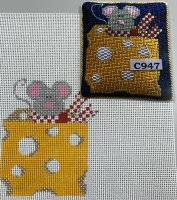 ---
Shop Update

It has been so wonderful to see your happy faces as you pick up beautiful finished projects and select exciting new ones!

However, because of the highly transmissible COVID-19 Delta variant and to be in compliance with Cook County ordinances, we must ask that a mask be worn when you visit The Canvasback. We wish you all health and safety. We thank you for your cooperation.
Eilene

recently did research for and was interviewed for a terrific article called "Needlepoint is a Great Way to Cope with Uncertainty." Needlepoint actually DOES make you feel good. There are physiological and neurological reasons why we feel comforted by the needlepoint we do. This is not in your imagination, this is real! Read and enjoy!
Click
here
for the article.